Dark Sky Overview
The Eastern United States are generally very poor for dark sky locations. Because the density of population is so much higher in this part of the country, development and sprawl has had a very negative impact to the darkness of the skies.
The goal of the group was to find a dark sky site that is within 2 hrs of Atlanta and convenient to other regional metropolitan areas in the southeast.
According to The World Atlas of the Artificial Night Sky Brightness http://www.inquinamentoluminoso.it/worldatlas/pages/fig1.htm there are no black zones within this range. A black zone is a Level 1 or 2 on the Bortle Scale indicating the very darkest skies available on the planet.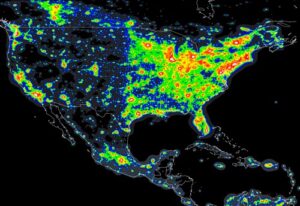 There are 3 Level 3 dark sky zones within a 2 hour drive of Atlanta:
North Zone - Land is very expensive in this area as it is mostly vacation mountain property. Along with this comes high growth which is what this area is currently experiencing. It is also mountainous which complicates the development costs and observational viewing area
West Zone - Alabama. There are some very dark sky sites in Alabama however these are outside range for the Middle Ga, Augusta, Savannah clubs as well as other metro areas further East
East Zone - This is an extremely low growth area and within range for the Atlanta, Augusta, Athens, Savannah, Macon clubs. Land is this area is low cost, mostly timber land, that needs improvement. Development in this part of the state is virtually non existent or is actually negative.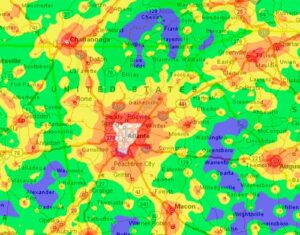 East Zone
The East Zone has very low to negative growth. There are very few businesses and the towns are very small
The terrain is relatively flat allowing for large unobstructed views
Access to the area is simple, with primary access to the area via Interstate 20.