Directions to the DAV (from Atlanta)
The Deerlick Astronomy Village is located approximated 1 hour and 45 minutes from downtown Atlanta. Becareful using GPS and Cell Phones for directions. Often they will try to send you down roads that do not exist.
1) From the I-285 and I-20 interchange (East side perimeter), take I-20 East for 86 miles to Exit 154 (Hwy 278).
2) Turn left at bottom of ramp and go 1.6 miles on 278 to 269 (aka Hwy 47 - mile marker 0).
3) Turn right (North) onto 269 and go 3.5 miles to 4 way stop, downtown Sharon (beware of RR tracks around the 2 mile mark, there is no signal).
4) Turn right (East) onto Main Street (aka Raytown Road, aka CR 79) and go 2.5 miles to 4 way stop.
5) Turn right (South) onto Double Wells Road and go 0.3 miles to Aaron Grier Road (just a gravel road)
6) Turn right (West) onto Aaron Grier Road and go approximately 0.5 miles to the DAV entrance, Star Gate 1 (SG1).
6a) We are a gated community, therefore you will need a pin number to enter, contact Dan Ford at 404.558.1647.
7) At the wooden sign "Members Field", take a right onto Griers Field, the DAV office is at the end of the road.
MAP from I20 to DAV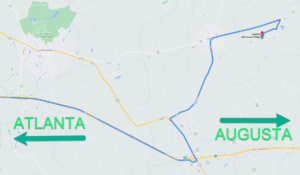 MAP into DAV from Sharon.

A few points of interests;
1) There are no grocery stores or hardware stores near the DAV. If you are coming in from Atlanta Exit 114 off I-20 is an excellent place to stop for food and supplies.
2) Be sure to check out the Robert Grier Historical Marker on Raytown Road. It is approximately 1.5 miles from Sharon on your right.
Directions to Washington, GA
Historic Washington Georgia in only a short drive from our site. There is a lot to see there and several nice restaurants in town. To get to Washington from the DAV,
1) Take Aaron Grier Road to Double Wells and turn left (North).
2) Continue on Double Wells (aka 79, aka Lumburg) for 12.5 miles.
3) Turn left onto Jefferson and this will take you to downtown Washington. if you Turn right , you will find a few Fast Food Locations. Going Straight here will take  you to the local Mexican restraunt.
4) There are several restaurants in the city square and if you turn right onto Toombs Ave there are several quick food places a few miles down the road.